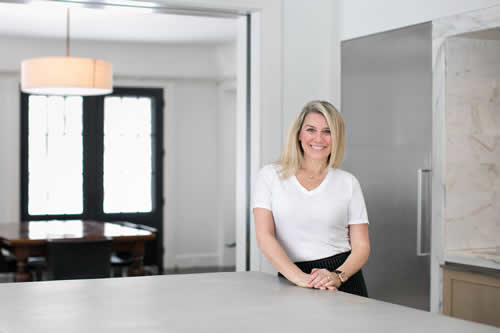 About Renee Scharoff
Renee Scharoff is long on knowledge and experience. She's professionally trained by the Connecticut Culinary Institute, and has worked in kitchens around the world: from preparing lavish private dinners in the south of France to catering galas for European aristocrats and American political royalty. She's also former pastry chef for western Massachusetts' acclaimed Federal Restaurant.
But what really sets Renee apart from other chefs? It's the fun and flair she brings to her work. "I love to take classic concepts and put a cheeky spin on them," says Renee, whose effervescent personality - smart, striving and sassy - is as appealing as her every plate. Renee was raised on a Connecticut farm, where an appreciation for fresh and locally sourced food developed, well, organically. But she was also exposed early on to the glamorous fashion world: her mother, a former model, ran her own agency - and threw some pretty decadent dinner parties. "Mine was a home where fashion and food went hand in hand," says Renee.
Mine was a home where fashion and food went hand in hand
They still do. Though she studied at NYC's esteemed Fashion Institute of Technology and briefly pursued a career in design, she could never shake her first passion: cooking. "I traded fabric for food," explains Renee. "Both fashion and food are about personal taste - about color, texture, presentation, and understanding the way different elements work together."
So Renee launched Blonde on the Run, offering catering services for fabulous parties large and small, home chef services for private clients, and even clever a la carte gifts for foodie friends: like adorable vintage picnic baskets that are perfect for romantic escapes and girls-only-getaways alike. Yet she never left behind her passion for fashion. In fact, in a culinary world dominated by stiffly starched white aprons, her background in the beauty world has given Renee what every innovative chef needs: a sense of spice, and a pop of color.
"The kitchen excites and energizes me," says Renee, who strives to bring joy and satisfaction to high-end clients by pairing timeless elegance with modern energy. "My clients are used to the finer things. And it's fantastic to bring them great food that is never boring. They trust me with their food, their homes - and their reputations." "They trust my taste."